Attorney Bio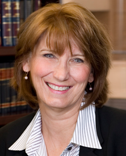 Bette Bushell has more than 15 years of experience as a Colorado trial attorney. She has handled numerous personal injury cases involving serious and life threatening injuries. She has been on the cutting edge of the law in medical malpractice, slip and fall injuries, and wrongful death cases involving large damage claims. Ms. Bushell is also a well-respected family law attorney with extensive experience in divorce and post-divorce modifications. She has been a court-appointed Child and Family Investigator in many of the District Courts throughout the Denver Metropolitan area. Ms. Bushell is a Pre-Paid Legal Services referral attorney for the State of Colorado. She supports Pre-Paid Legal Services' culture of compassion and is committed to providing service from the heart to each and every client who contacts Bushell Law, L.L.C.
Ms. Bushell compiled a distinguished academic record, which included her law degree from the University of Denver College of Law and a B.A. in psychology, with an emphasis on child psychology from the University of Colorado. Prior to attending law school, Ms. Bushell served as an assistant to the late Edward J. Pringle, a former Chief Justice of the Colorado Supreme Court.
Ms. Bushell is admitted to practice law in all Colorado trial and appellate courts, as well as the United States District Court for the State of Colorado, the United States Tenth Circuit Court of Appeals, and the United States Supreme Court.
Ms. Bushell's professional affiliations include the American, Colorado, and Denver Bar Associations, the Colorado Trial Lawyers Association, Metropolitan Denver Interdisciplinary Committee and the Boulder Colorado Interdisciplinary Committee.
In addition to practicing law, Ms. Bushell is the proud mother of two adult sons. She is an avid golfer and is actively involved in the support of animal rescue programs.